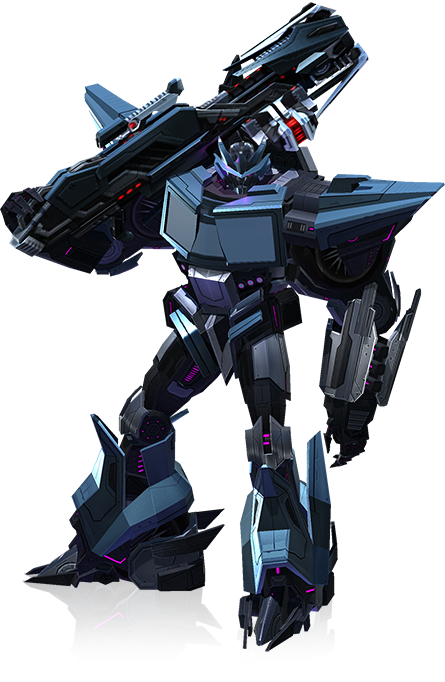 Description
Edit
A Decepticon in full contact with the darker side of destiny, this spiritual gangsta cruises the night spinning his wheels of fate. 
Conduit's strong defenses and significant repairing ability let him enter the most dangerous combat situations to help allies turn the tide. This means he can skillfully balance the roles of defender and repairer.
Vehicle form

Edit
Designed for off-road terrain so he can reach damaged allies, and customized with an after-dark allure to reflect his demonic faith, Conduit's vehicle mode is a unique concoction - even before its electrifying grenade launcher is drawn.
Crash into Conduit and you'll quickly get wise to the hand you're being dealt. A force of nature manifested by the green glow of his repairing weapons, Conduit keeps his allies pumped and fighting for their faction.
Quote from other bots

Edit
"Conduit deals the hand." - Knock out
XAL BLASTER RIFLE [ MOTION INHIBITOR ]
A long-range weapon which deals electrical damage to spark and shield. It exhausts its power in a single activation, then requires a short cooldown. 
The Storm Pulse S-tech shocks the targets' servos, immobilizing them.
ENDURO SHOTGUN [ ALLY REHABILITATOR ]
A short-range ammo weapon which repairs allies. It auto-reloads when ammo is depleted. 
The Faith Shot S-tech pumps shells of positrons directly into the spark chambers of allies, which disperse and gradually repair them over time.
ETHEREAL PISTOLS [ ALLY DEBUFF CLEANSERS ]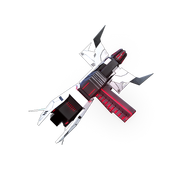 Short-range ammo weapons which repair allies. They auto-reload when ammo is depleted. 
The Pellet Patch S-tech purges trauma debuffs from an ally and simultaneously repairs Conduit. It also reinforces the ally's hull to withstand further trauma debuffs.
Equipment
Edit
Spark DuplicatorEdit
Conduit's morale circuits network with those of nearby allies to repair him over time. The more allies in proximity, the stronger the repair.
Lightfoot ArmorEdit
Coats Conduit and his nearby allies with a solution of G-metal and servo lubricant, which bolsters armor and accelerates motion.
Backfire CircuitsEdit
Installs a virus in nearby enemies which monitors their systems. Should one of those enemies defeat their target, or if they themselves go offline, the virus will detonate, damaging all nearby enemies.
Subsystem

Edit
System Infusion - Conduit's repairing systems are naturally infused with minor quantities of G-metal and servo lubricant, which means his repairs to allies have a chance to boost armor and speed.
Vehicle form

Edit